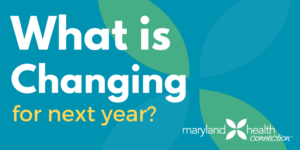 With the headlines out of Washington, you may have questions about what the latest developments mean for you and your coverage.
We want to make sure our consumers have the facts and know that Maryland Health Connection is here to help you get the health coverage you need.
This is a place to check for updates on any changes that may impact you and the 1.1 million Marylanders who currently have health insurance through Maryland Health Connection.
For now, here's what you need to know:
It is important for Marylanders to understand that nothing has changed. The Affordable Care Act (ACA) is still the law of the land. The House of Representatives on May 4 voted 217-213 to make changes to the ACA by approving the American Health Care Act. Before any proposed changes would be put in place, the bill also must be approved by the U.S. Senate, which can reject the bill or move to change or delete certain provisions.
If you signed up for health insurance for 2017, your coverage is protected through the end of this year. Make sure you stay covered throughout the year by continuing to pay your premium on time.
Stay updated: sign up for alerts from MarylandHealthConnection.gov/blog, and follow us on Twitter @MarylandConnect.
We continue to help eligible people enroll year-round – including those who have recently experienced certain life changes like losing their job, getting married or divorced, or having a baby. If you are eligible for Medicaid or MCHP, you can enroll any time.
The open enrollment period for 2018 coverage will be November 1 to December 15, 2017 (coverage starts January 1). As always, Medicaid enrollment continues year-round. In the meantime, be sure to tell us about changes in your household or income.
http://www.pgchealthconnect.org/wp-content/uploads/2016/10/MHC300pxColorlogo-300x74.png
0
0
Shari Curtis
http://www.pgchealthconnect.org/wp-content/uploads/2016/10/MHC300pxColorlogo-300x74.png
Shari Curtis
2017-05-05 20:02:19
2017-05-05 20:02:19
What is changing for next year?